"Namaami"- Colours of Varanasi..
Exhibition Date:
29th Jan,30th Jan, 31st Jan, 1st Feb 2015
Venue:
Chitrakala Parishat, Bengaluru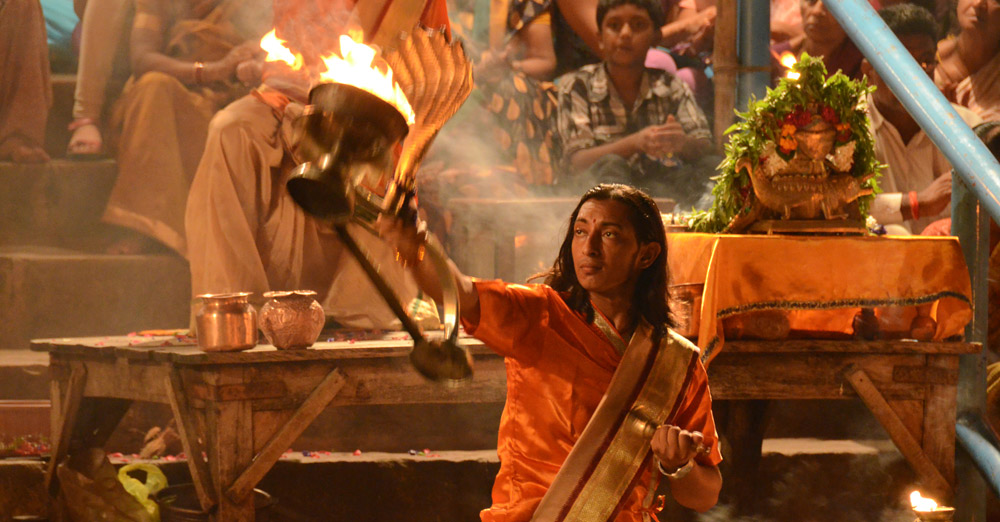 I am founded by Lord Shiva to dissolve the human souls in salvation, and called Shiv ki Nagri,
I am the most sacred among the Twelve Jyotir Lingas,
I am that which shines eternally, therefore called Kashi,
I provide liberation to all , whether thorough Japa, Tapa or Homa, therefore I am called Avimuktha,
I rose from two rivers Varuna and Asi, therefore I am called Varanasi,
I was built at the behest of Lord Indra by Divodasa thousands of years ago,
I am from time immemorial, beyond the imagination of ordinary mortals,
I am synonymous with religion, culture, learning, music, arts, handicrafts, philosophy, spiritualism and mysticism,
Ancient texts Skanda Purana, Agni Purana, Vamana Purana and many more refer my name reverentially,
Hiuen Tsiang, the great Chinese traveler called me "Polonisse" in 7th century,
Many tried to rob my glory, only to dissolve in unknown,
No conglomeration on this planet witnessed such brutalities and destruction but I arose from ashes burnt and purified like divine Metal, strong outside and soft inside,
I had eight great secret and sacred Tirthas- Harischandra, Avratakeswara, Japyaswara, Sriparva,Mahalaya, Bhrigu, Chandeswara and Kedaara…Unknown to many but available to genuine seekers,
I am vibrant heart of Universe, a crossing place for physical and spiritual worlds, everlasting symbol of past, present and future for generations to come,
I am one of the Sapta Puri( Seven Sacred Cities ) that atones whosoever pray at my feet,
I am the oldest continually habited place on earth,
Adi Shankara wrote his treatises from here flowing with unfathomable knowledge and wisdom,
Lord Buddha set foot on my soil to deliver his first sermon "Turning the Wheel of Law" at Sarnath, near my place, spreading the basic principles of Buddhism,
I was home to Supershvanatha,Shreyanshanatha andParshvanatha, Seventh, Eleventh and Twenty-third Jain Tirthakaras respectively, a place of great religious importance for Jains,
Seekers, reformers, poets, mystics, casual visitors, travelers from faraway lands, rulers and their subjects, scholars and many more were born, passed through, lived and left their mark here,
Guru Nanak Dev visited for Shivratri in 1507, a historical event that forms the basis of founding of Sikhism,
Kabir, Ravidas and Tulsidas, with their enchanting and spontaneous poetic outpour spread Bhakti movement from here,
I had more than 23000 temples, some visible even today, some lost in the flow of time,
Sushrutha,, a great surgeon, lived here and founded the principles of Surgery in his Samhita,
Among my 84 Ghats, many spread unimaginable colours of life with festivals, rituals adding fervor, gaiety, joy and emotions, to all alike,
Pandit Madan Mohan Malviya founded here, a University, highest seat of learning to build confidence and respect among the Indian learners and scholars, which led to establishment of many Academic and Research Institutions from time to time,
I am also called Anandavana, Rudravaasa, Mahasmashana, Benares and many more titles,
I am located at the western banks of Holy Ganga surrounded by labyrinths of alleys and sub-alleys catering to needs of all,
I am charismatic, dynamic and colourful with no beginning and end,
I am history, tradition, legend as well as modern, everything, known and unknown to human imagination,
I am Varanasi….

Kanchenjunga Book Release:
The book was released on 2nd July by Ms.M.Durga Bhavani, the authors partner in many of his travels and in Life.
The event was presided over by Mr.Chiranjeev Singh, Former IAS officer.
The chief guests were Mr.Bhaskar Rao, close friend former Chief sub editor at Prajavani and Mr.Christopher N Burchette, Chief managing editor at Pilgrims Publishing.
The event was witnessed by several people from the press, close friends and admirers of the Author.
About Kanchenjunga Diary:
Kanchenjunga Diary is an insightful account of the authors trek to the base camp of Kanchenjunga, accompanied by his wife, in 2011. What makes the book special is that, it is a compilation of spontaneous day to day activities, recalled from the notes made during the trek. Unlike Everest base camp or Annapurna base camp, Kanchenjunga trek is attempted by very few, hence there were No guide books or detailed reads when searching through the Market in Kathmandu before the start of the journey. This is an attempt by the Author, M.Madan Gopal, wants to provide to the world, first hand details and experiences for trekkers planning to go on this route. Kanchenjunga Diary is written in a simple, free flowing, conversational style, giving exquisite details to the journey with his partner and group of porters who he fondly refers to as "the dirty dozen", recalling every town visited on the way, people they came across, food, weather and the many many challenges they overcame over this 610km trek. A regular reader will be captivated by the graphic story telling, an avid trekker can use it as a guide to traverse through this "Mother of all Treks" Altogether the book is an honest description of an overall experience. It's interesting, insightful and hopes to inspire many more to attempt this route.
Online link to buy the book
Its available on
Flipkart
&
Pilgrims Online Shop